©2010 Emerald Diving, All Rights Reserved
It was time once again for the San Juan Islands 16 hour dive marathon. These day trips entail getting up around 6 AM, driving 2 hours to Cornet Bay on north Whidbey Island, launching the boat, cruising for 30 minutes to an hour, and then dive, dive, dive! Once the diving is done, it's a cruise back to Cornet Bay and a trudge through traffic for yet another two hours. With some luck I arrive home before my wife declares herself a "dive widow" and changes the locks on the house.

This weekend produced some favorable currents with a moderate flood in the morning giving way to a very minor ebb around noon. My plan was to start the day at Long Island on the flood and then do some exploring. I also wanted to hit a small rock south of Lopez Island known as Swirl Rock. I did this dive off-slack in February of this year and it was outstanding. We tried again in July, but the rock was engrossed in a cauldron of current. No wonder there were so many colorful invertebrates at this site.
South San Juan Island: August 24, 2008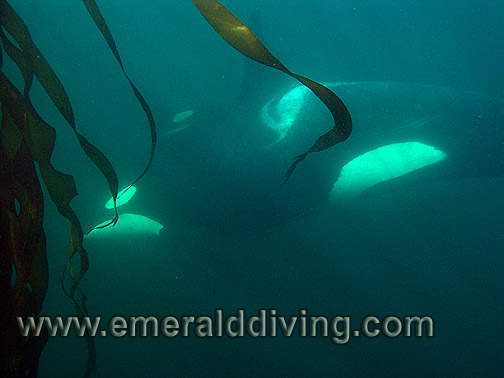 Hey..that's not a lingcod!!! A pod of orcas passes by after I entered the water and prepared to recover my buddy's weight belt. After watching in awe as several passed by, I remembered I had a camera and snapped this pic as the last two darted by. Note the head of a second orca in front of the dorsal.
A new species of ascidian? That will be for Dr. Lambert to figure out.
Not impressed with our tales from Eagle Point, Jon opted to head further northwest in search of a better dive. We found ourselves 4 miles further up San Juan Island at Pile Point - another new site for us. Jon surfaced after an hour and had a very good dive.

My intent was to finish the diving day back at Swirl Rock at predicted slack before flood. That plan disappeared as quickly as Jon's weight harness that slid off the back of the boat after his dive. I quickly GPS'd the location where the weights were dropped. We anchored at the GPS waypoint and I geared up for the recovery effort. As I entered the water, Jon noted orcas in the area. For some reason I didn't want to meet an orca face to face on an anchor line in the middle of an 80 foot descent, so I waited for the orcas to pass before descending. Although it initially appeared as if only a few orcas were heading up the shoreline, there were actually about 30. However, they were broken into small groups that formed a procession. It took at least 10 minutes for them to pass. I sat in awe just below the surface next to the boat as I watched several orcas swim by underwater - some within 20 feet. One large male in particular cruised directly below me. It rolled on its side and craned its head back to get a better look at me as it's dorsal passed 15 feet underneath me. I felt pretty small as I hoped to God that the giant wouldn't reverse course and come over to check me out more thoroughly. Completely exhiterating - and frightening.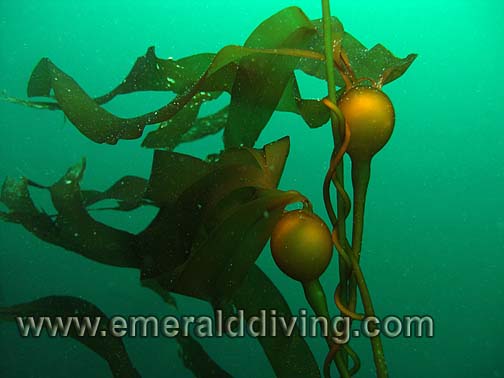 Variable nudibranch (Dendronotus diversicolor) at Long Island west wall.
A passing school of orcas delayed the last dive of the day. That's a high-class problem.
Bull kelp in the shallows at Pile Point off south San Juan Island.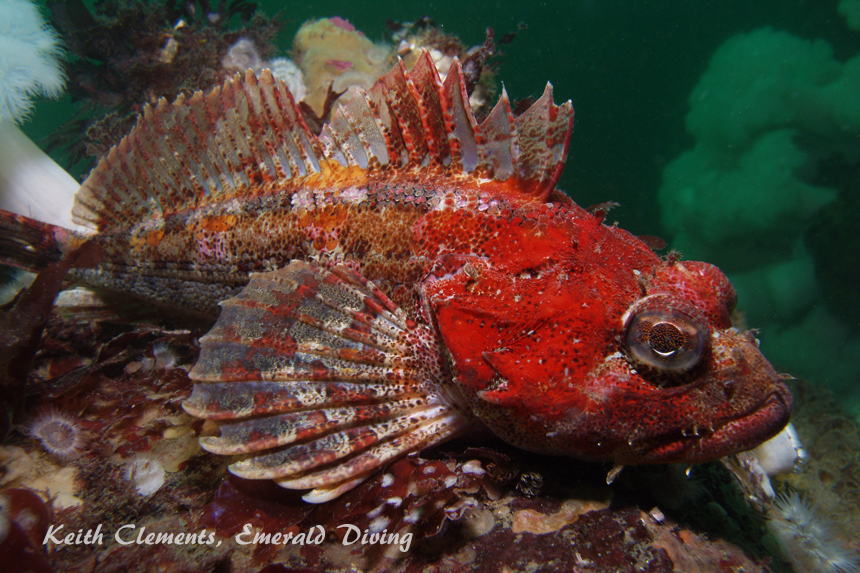 We started the day on schedule and entered the water at Long Island just after 10 AM. I photographed some ascidians on this wall on a prior trip that caught Dr. Lambert's eye. They could be a new species of Distaplia sp. I readily found the little tunicates and collected two samples for her. Clint and I also spent some time admiring the picturesque field of strawberry anemones that carpet the southern section of the wall. Vis was outstanding as it exceeded 35 feet at times. We encountered almost no current the entire dive and were out of the water well before the tide turn. Although I didn't find any Puget Sound king crab wandering the wall, I did find several new hydroid species and upgraded nudibranch shots for the Species Index. I was also pleasantly surprised by the abundance of black rockfish.


Clint and I then opted to head to Eagle Point on the south side of San Juan - another new site. We entered the water right off Eagle Point. I noted a rather staunch current headed south at depth. I opted to head north into the current for the first part of the dive, then drift back and hopefully end the dive in the large kelp bed south of the point. The plan worked. I wasn't impressed with the structure north
Jon gearing up with his CCR. Bubbles not included. Neither was his weight belt after this dive.
Lingcod stationed above a lobed ascidian at Long Island.
Male kelp greenling showing off the strawberry anemones at Long Island.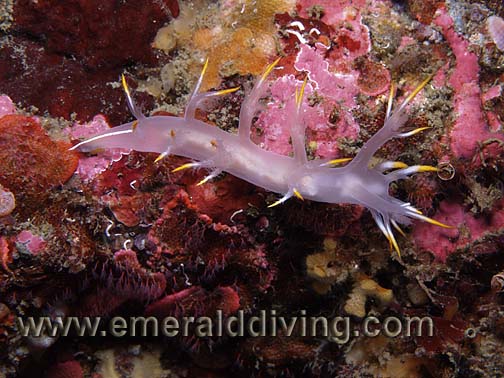 Jon then did a dive at Whale Rocks, which is a new site for us. He enjoyed the dive but wasn't overly impressed. There were some very colorful sections to this site but it paled in comparison to Long Island west wall. Then again, everything pales in comparison to Long Island.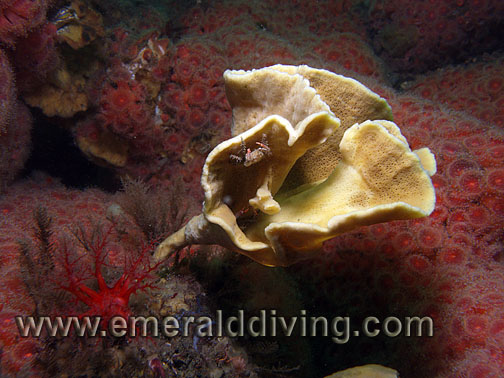 Red Irish lord staking out a position near the strawberry anemones at Long Island.
Funnel sponge silhouetted against a magnificent carpet of strawberry anemones at Long Island
of Eagle Point which consisted of some smaller rock formations, lone boulders, and sloping cobble. The topography got much more interesting as I drifted back towards the point. I found a decent wall with plenty of surrounding structure bathed in strong current. I drifted around the point and was caught in a strong upwelling along the south side of the wall. I held onto kelp to keep myself from ascending uncontrollably. Approximately 100 black and yellowtail rockfish were actively feeding in this upwelling. I ended the dive in the shelter of the kelp bed south of the point as planned. I could hear orcas passing by during this dive. This was an interesting dive, but its not high on my list of "must do agains".

After several false starts, I finally descended the anchor line and quickly found Jon's weight harness not 15 feet from the anchor. I tied the harness to the anchor and started exploring the surrounding area. I found an interesting rock wall starting at 90 feet and dropping down to over 110 feet. I spent some time on this wall before slowly working upslope to the kelp. There is good structure at this site, and the visibility at depth was incredible. Horizontal vis was 40+ at depth. I could see the waves shimmering in the sunlight on the surface from 80 feet deep. I could also hear orcas singing in the distance - along with the engine noise from the seemingly ever-present flotilla of boats following the orcas.
I ended the dive in the shallows amidst a beautiful kelp bed. As I shot some photos of the kelp, I noted a lone dogfish wonder through my field of vision. Then another. Then another! Within second I had a loose
school of about 12-15 dogfish leisurely mulling about. I thought they were attracted to my camera strobe until I looked over my shoulder and saw a good sized school of herring. However no confrontation ensued. Both the herring and dogfish were relaxed as the two
schools went their separate ways.

I experienced very little current at this site, although I was diving it close to slack. This is one site that will go on my "must do again" list.

We stopped for dinner on the way back and got home around 10 PM. These day trips make for a long day, but some great diving.

Seals at Whale Rocks decided to haul out and bask in the sunshine - sunshine that has been a rarity this August