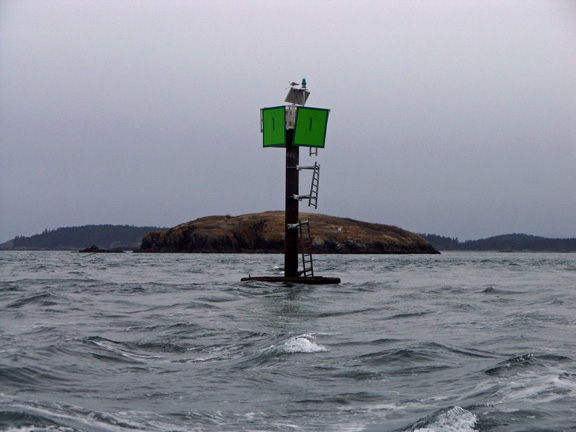 Topography: Extensive offshore rock wall that drops to over 200 feet.

San Juan Islands marine life rating: 3

San Juan Islands structure rating: 4

Diving Depth: 70-110 feet.

Highlight: Massive wall covered with fields of giant plumose anemones.

Skill level: Advanced

GPS coordinates: N48° 24.785 W122° 48.671

Access by boat: Davidson Rocks are located in the Strait of Juan de Fuca near the southeast reach of Lopez Island. This large reef does not break the surface but is marked with a piling and navigational marker. Colville Island is immediately west. The west side of the reef boasts a sheer wall that is easily located with a depth sounder as the substrate drops from 20 feet to 200 feet.

Shore access: None.

Dive profile: A live dive boat is mandatory whenever I dive the offshore and current swept wall.

The reef above the wall lies within 20 feet of the surface near the piling. I enter the water due west of the piling in close proximity to the wall and head west. The reef quickly increases in depth before giving way to the wall in 50-60 feet of water. The wall is very steep or vertical in most places and marred with some vertical ruts cut into the face of the wall that collect rocks and boulders.

I swim against the current for the first part of the dive, then use the current to drift back to my starting point. I plan to end the dive close to the navigational marker as the depth around the marker is better suited for an easy safety stop. If I can't get to safety stop depth on the reef, I look for a thick strand of bull kelp to use as an ascent line to safety stops depths. I have done many safety stops fluttering in heavy current at the end of a strand of bull kelp above this reef. I am also prepared to shoot a signal marker buoy with my finger spool should I end up performing my safety stop adrift in the current.

My preferred gas mix: EAN 32

Current observations:

Current Station: Colville Island, 0.1 SSE
Noted Slack Corrections: None

This site is very current intensive. The intimidating current that normally sweeps over the top of the reef subsides behind the wall. Vertical ruts cut into the wall can channel current downward and produce some waterfalling. I have also noted mild upwelling when diving this site on an ebb. Both the upwelling and waterfalling I have encountered have been manageable, but I would not hesitate to abort a dive if I was the least bit uncomfortable.

A flooding current washes in from the west and brings rich nourishment to the dense invertebrate life that calls this wall home. I have not attempted diving this wall on a flood, but suspect it would not be much fun and potentially dangerous.

My preferred entry time is at the very end of a minor flood - usually about 30 minutes before slack before ebb. The current almost completely stops before the change. Wind permitting, I read the current by letting the boat drift over the dive site and using the piling for reference to gauge the current speed. The boat should drift very slowly to the east. When the tide begins to ebb, the current on top of the reef changes direction and quickly intensifies. Even though I enter the water during relatively slack conditions, an hour long dive means I will end my dive on top of the reef in heavy current.

Boat Launch:

Cornet Bay State Park (Whidbey Island). Approximately 8 miles east from the dive site. Excellent facility with bathrooms, docks, camping and general store.

Facilities: None

Hazards:

Current: Likely heavy current on the reef. Potential upwelling or waterfalling current on the wall. Unknown current behavior on flooding tides.

Depth: Davidson Rocks is a sheer wall that drops well beyond safe recreational diving depths. Good buoyancy and depth management skills are essential.

Swell: This exposed area is potentially susceptible to swell, however swell is usually minimal or non-existent during good weather.

Free ascent: A free ascent in heavy current may be required is the reef or kelp cannot be followed to safety stop depth.

Offshore location: There is no adjacent shoreline to swim to in case of emergency.

Exposure: This area is exposed to weather and wind from all directions. Surface conditions can deteriorate quickly.

Marine life: Invertebrates in this area lack the dusty coating of silt that chokes many of the dive sites closer to Deception Pass and elsewhere in the San Juan Islands. Immense congregations of spectacular giant plumose anemones are able to thrive in these silt free waters. Huge sections of the wall are enveloped with these white giants, giving the wall the effect of being covered in a thick snow. Scattered about the white stalks are bright pink crimson anemones, yellow encrusting sponges, and brown finger sponges. Look for colorful candy stripe shrimp on the bases of crimson anemones.

Other sections of the wall are completely covered in orange or yellow invertebrates, predominately slipper sea cucumbers and sponges. I find interesting nudibranchs in these sections, including the diamond back and the orange peel nudibranchs. Purple-ring topsnails are found with careful observation as are a number of interesting crabs such as the rhinoceros crab. Giant Pacific octopus frequent this site, but are difficult to find.

Diverse and robust fish stocks are lacking. A fair number of greenlings reside on this wall. Rockfish species are limited to small schools of Puget Sound rockfish with the occasional quillback, copper, black and yellowtail mixed in. On one occasion I was fortunate enough to find a tiger rockfish. Smaller fish thrive amidst the dense jungle of invertebrates. Small scuplins and warbonnets are common, but it takes patience and a keen eye to find them.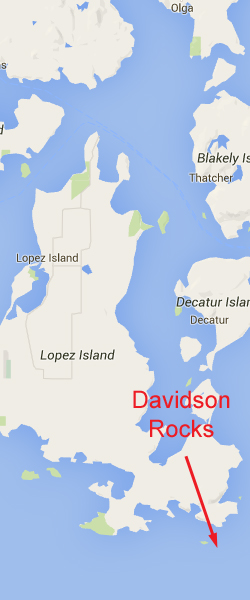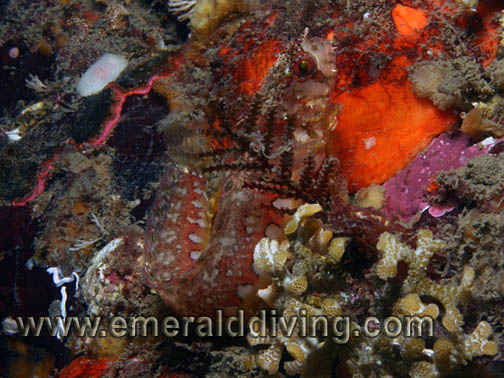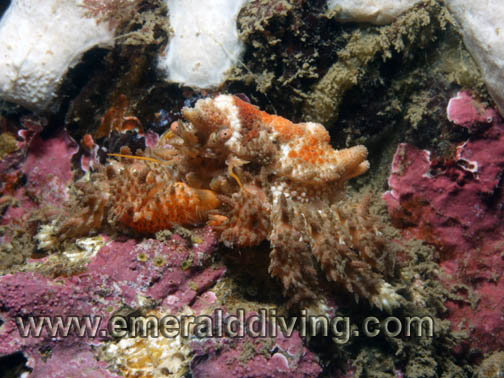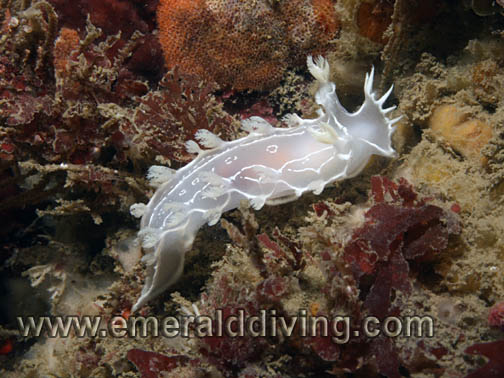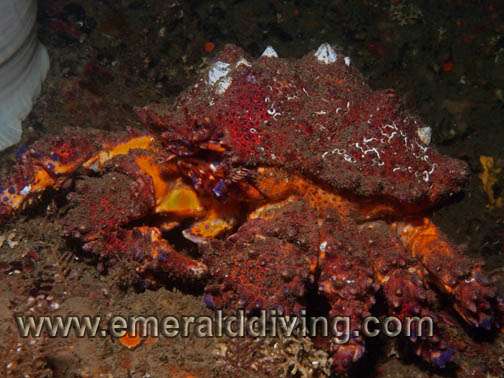 Pink Feather Coralline Algae
Mosshead Warbonnet
Heart Crab
Copper Rockfish
Puget Sound King Crab
Underwater imagery from this site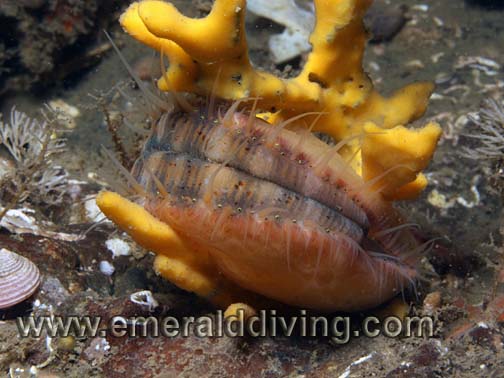 Diamondback Nudibranch
Swimming Scallop
Candy Stripe Shrimp