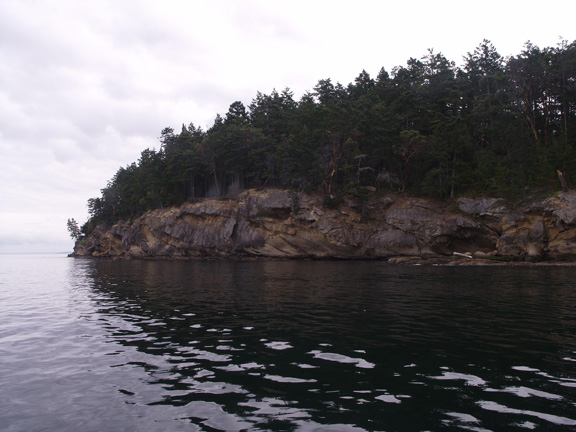 Topography: Expansive rock wall pitted with overhangs, shelves, caves, and fissures.

San Juan Islands marine life rating: 4

San Juan Islands structure rating: 5

Diving depth: 70-100 feet.

Highlight: Incredible structure heavily encrusted with invertebrate and inhabited by small fish. Puget Sound king crabs of all sizes and tiger rockfish are found throughout this site.

Skill level: Intermediate

GPS coordinates: N48° 45.950 W122° 55.183'

Access by boat: Lawson Bluff is located on the west side of Sucia Island in the northern San Juan Islands, just north of Orcas Island. The bluff comprises the northern shoreline of Shallow Bay.

Shore access: None.

Dive profile: This is an awesome dive, and one of my favorite in the San Juan Islands. The bluff above the dive site is a great indicator of what waits below. The bluff has been carved by weather and waves resulting in a rugged rock sculpture. Current has carved even more exaggerated features below the waterline over countless millennia. The underwater topography is dominated by sheer walls marred with shallow caves, overhangs, shelves, and all sorts of nooks and crannies to explore. A good dive light is a must to really appreciate this site, which is true of most northwest dive sites.

Kelp flourishes in the shallows, especially in summer and fall. Most of the kelp is broadleaf kelp and doesn't impose a serious snagging hazard.

Diving this site is relatively easy if diving during a minor exchange. A current is usually present along the wall, so I first determine the direction of the current by allowing the boat to drift over the dive site. I enter the water up current and slowly drift along the wall. The current pushes south to Shallow Bay during an ebb, so I start my dive about 150 yards north of the entrance to Shallow Bay and slowly drift south as I explore. I only dive this site with a live boat.

My preferred gas mix: EAN 34

Current observations:

Current Station: Sucia Island, 0.5 miles WNW

Noted Slack Corrections: None

I typically visit the San Juan Islands when current is minimal during daylight hours. I target Lawson Bluff dives during minor ebbs (maximum current of 1.0 knot or less) with an entry time of just after slack before ebb. The ebbing current gently pushes south towards the entrance of Shallow Bay. I have not encountered a substantial current that I couldn't easily swim against while diving this plan.

Strong current can run along this wall during major tidal exchanges. The current intensity varied greatly from non-existing to extremely strong the one time I have dived this site during a heavy flood. The first buddy team that entered the water had almost no current the entire dive. I put in 10 minutes later at the exact same spot and was met with a very strong northbound surface current of 1.5-2 knots. I was able to get out of the surface current at about 60 feet, below which the current actually reserved direction and gently pushed towards the south.

Boat launch: Washington Park (Anacortes). Approximately 22 miles from the dive site. This park offers a good boat launch with docks, restroom facilities, and camping. Parking with a trailer during summer months can be very tight, although some parking is reserved for day use.

Facilities: Sucia Island is one of the many fabulous San Juan Island state parks. Mooring buoys are located in many of the bays, including Shallow Bay and Echo Bay. Fossil Bay offers not only mooring buoys, but two docks during boating season. I believe one of the docks is removed during winter months. The entire main island is a state park that features camping facilities, restrooms, extensive hiking trails, and limited fresh water.

Hazards:

Current: Potential for strong current, especially off-slack on heavy exchange days.

Depth: Lawson Bluff is sheer and drops well beyond safe recreational diving depths. Good buoyancy and depth management skills are essential.

Exposure: This site is exposed to the Strait of Georgia to the north and west. Strong winds from either of these directions will result in rapidly deteriorating surface conditions. Several well protected bays on Sucia Island offer shelter should such a situation arise.

Marine life: Although the marine life at this site may not be as colorful as Long Island West Wall, it is nonetheless outstanding.

Fringed tube worms in hard, white tubes dominate the undersea substrate. Scattered among the tube worms is a wealth of invertebrates, including brilliant orange burrowing sea cucumbers, white sponges, large cushion stars, massive purple and red sea urchins, rock scallops, and a number of ascidians and sea squirts. The biggest sea peach I have ever seen was hanging from the top of one of the many caves at this site. Juvenile and adult Puget Sound king crabs are readily found on the wall. Brightly colored juveniles are sometimes the size of a quarter and can be difficult to spot among all the vibrant orange cup corals and sea cucumbers. I even find the odd basket star clinging to the wall and feeding with outstretched arms. A few nudibranch species I expect to find at this site are Nanaimo and yellow-margin dorids, and orange spotted and white nudibranchs.

Fish populations are decent, but not overwhelming. Copper and Puget Sound rockfish are the most numerous habitants, although they share this habitat with their quillback cousins. Close examination of the rocks reveals small sculpins such as the colorful and elusive longfin sculpin. Lingcod of various sizes and kelp greenling rest on protruding structure offering a vantage point. I often find solitary tiger rockfish when I shine my dive light into dark rocky chasms. Tiger rockfish can be very shy and often hide deep in their lair as a diver approaches. However, after the diver passes the curious tiger rockfish will often come partially out of its lair to investigate, so don't forget to look behind you on your dive once in a while.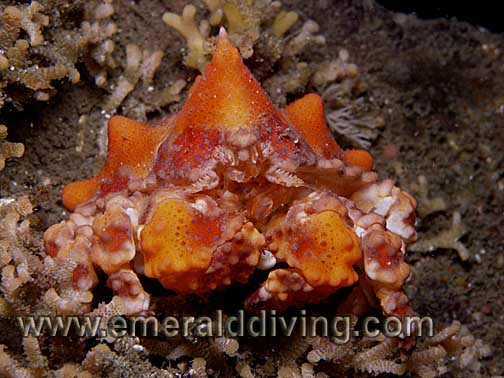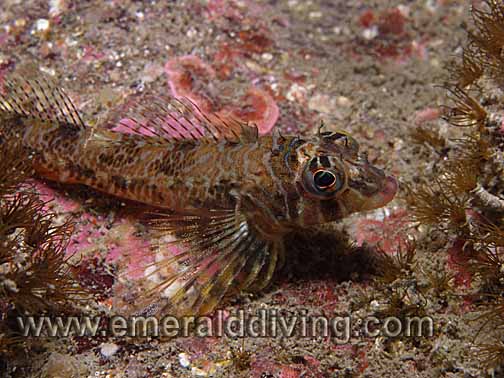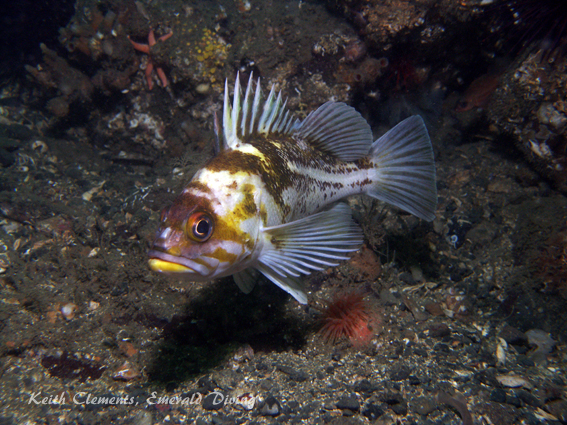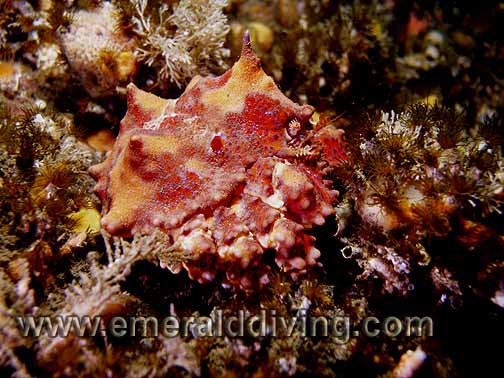 Puget Sound King Crab
Mosshead Warbonnet
Longfin Gunnel
Copper Rockfish
Puget Sound King Crab
Underwater imagery from this site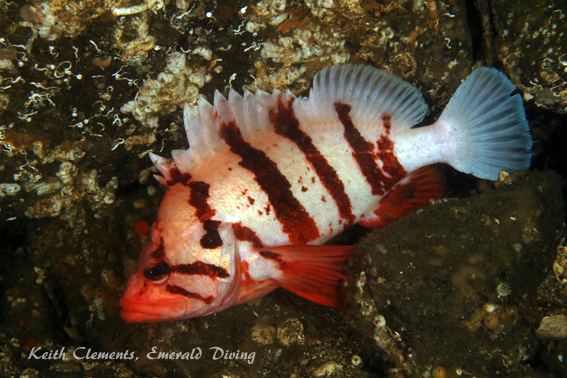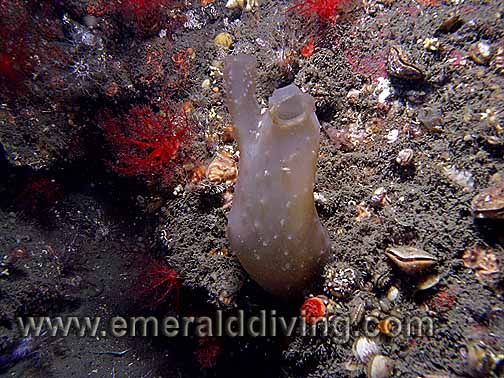 Tiger Rockfish
Glassy Sea Squirt